Parent Teacher Association - Dates for your Diary
Parent Teacher Association - Regular Events
Second Hand Uniform Shop
When: 1st Friday of every month after school

Where: In the school playground (weather permitting)

What: £1 per item (with some exceptions). Feel free to donate uniform at this time too.
If you need any top ups of uniform outside of this time, email Mrs Fox at mailto:bf@htlb.school
Friday Tuck Shop
When: Friday after school

Where: In the school playground (weather permitting)

What: Autumn and Winter terms – sweet shop; Summer term – ice creams and lollies
Ways to Fundraise - How you can help
Buy your nametags from MyNametags
Need name tags for clothes or lunchboxes? Order them at https://www.mynametags.com/ Add the school id 28939 at the checkout and for every order, My Nametags will contribute 24% to our school PTA.
Fundraise while you shop
If you shop online, one way you can support the PTA is to sign up to EasyFundraising and allocate the PTA as your chosen charity. Easyfundraising turns your everyday online shopping into free donations for your favourite cause. Just go online at easyfundraising.org.uk or download the app, then shop as normal. Easyfundraising retailers will then make a small donation to say "thank you". So far we've raised £650 for the school.
Go to https://www.easyfundraising.org.uk/causes/holytrinitylowerbeeding/
Following requests and conversations with a number of parents, the PTA set up a wish tree. Staff leave suggestions of items (typically small things or thing not covered by traditional budgets) and parents can buy these items from an Amazon Wish List. There is no expectation for any families to feel obliged to take part. Below is the link to our wishlist:
https://www.amazon.co.uk/hz/wishlist/ls/2VPLUM3BJRK27?ref_=wl_share
Who are the PTA?
The Parent Teacher Association is a registered charity whose only goal is to raise money for our school to fund items, events and experiences not covered by the school's normal council funding and designed to make your childrens' time at Holy Trinity that little bit more special.
We are a mix of parents from across the year groups and teachers. We spend our time coming up with fundraising ideas for raising money for everything from new reading books to building a new outdoor area. We would love new members for our team! You can either join the committee and help plan activities and events (we meet about twice a term).
If you can't spare very much time, we also welcome any parents to help at the events that we run, if you would like to help please contact Nicky Peet via Classlist or speak to Mrs Cornfield in the School Office.
What have we funded?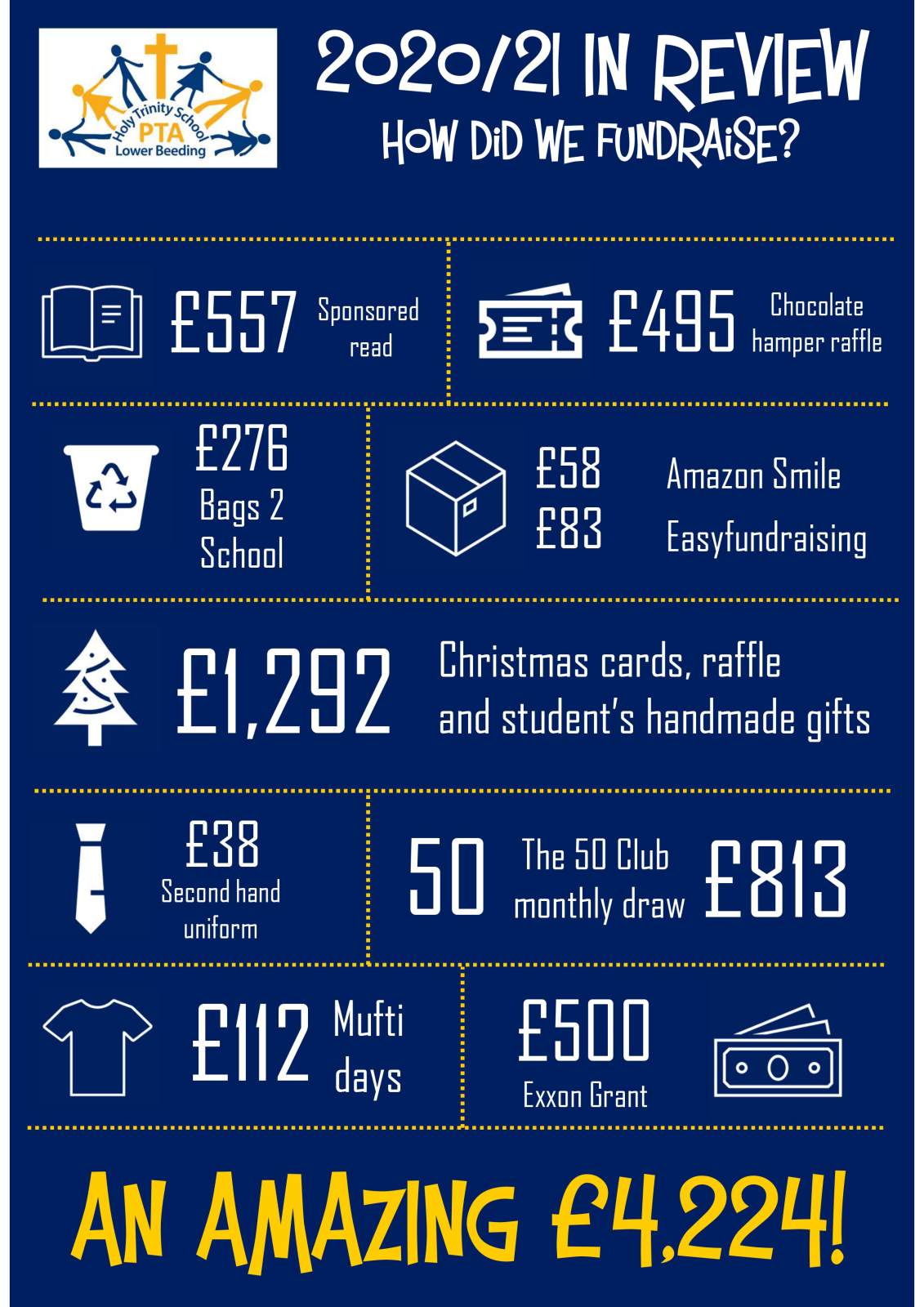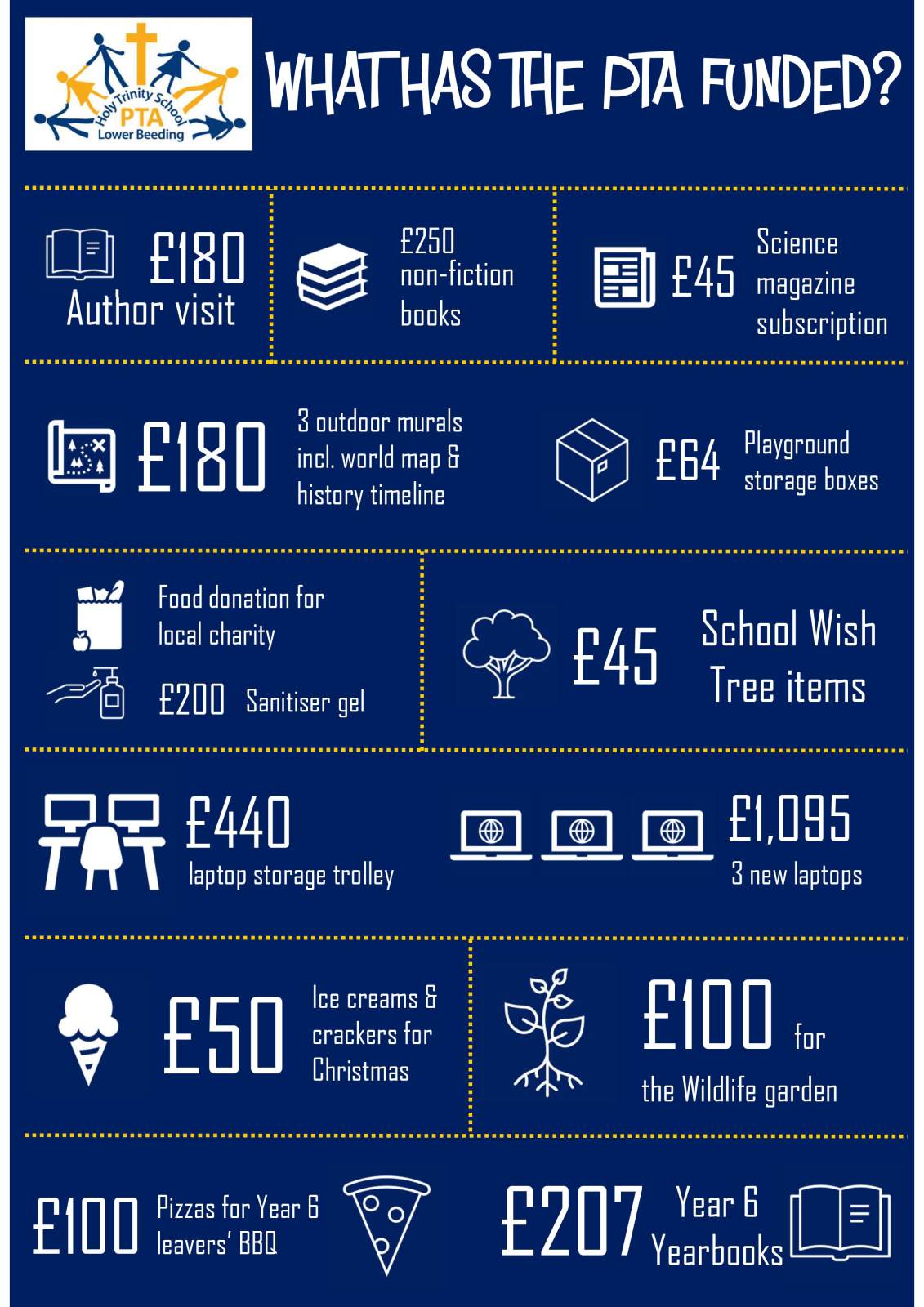 Ways to keep in touch
Read our updates on Classlist
Follow us on Facebook – holytrinityschoollowerbeedingpta
Email: mailto:pta@htlb.school
Thank you for your on-going support and we look forward to seeing you at our next event.
Nicky Peet | Chair PTA